By Lynn Byrne. Well-known for his chairs–the diamond chair has been in continuous production since 1952–many people remain unfamiliar with Harry Bertoia's sculpture and prints.   Here is a shot of the diamond chair–one of those iconic pieces all design aficionados should know.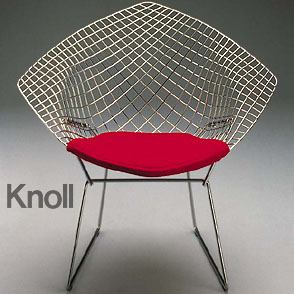 I knew a little bit about Bertoia's sculpture having fallen in love with a Bertoia dandelion sculpture in the booth of gallery, Lost City Arts, during the opening night of the Winter Antiques Show in January 2010.
Click here to read that post and see a photo of the dandelion sculpture.  It is still available by the way.
Last week, I learned and saw much more.  I was incredibly lucky to have a guided tour of the Lost City Arts gallery, which houses one of the world's largest collections of Bertoia sculpture and art, by its owner, Jim Elkind.   I was especially fortunate because Jim is not often in town.  He is constantly traveling to find unique pieces.  His passion for his work is contagious.
The first thing I learned on our tour was that Bertoia made many sculptures intended to produce sound.  Bertoia bent and stretched the metal so it would respond to wind or touch, creating different tones.   When I "heard" various sculptures at Lost City Arts I was captivated and determined to learn more.
With a little web research, I discovered that Bertoia actually performed with the pieces in several concerts and produced nine albums, all called "Sonambient".  You can hear the sculptures yourself by clicking here. A CD is also available for purchase. This is Bertoia "playing his sculpture".
Photo via bertoiaharry.com
These are some of the Bertoia pieces currently at Lost City Arts.
Check out this giant double gong.
Photo from Lost City Arts on 1stDibs
My photo of the double gong may give you a better impression of its great size.  I am surprised you didn't hear it when Jim banged on it!
These Bertoia wire sculptures make much more ethereal sounds.   Lovely to look at and lovely to hear.  That glimpse of the painting in the background in the first photo is a Faroe Islands Seascape by Danish artist Samuel Joensen-Mikines, c.1940. The last photo in the series is the entire painting.
Photos by Lynn Byrne for Decor Arts Now
Photo from Lost City Arts on 1stDibs.
Perhaps my favorite Bertoia sculpture at Lost City Arts is this small model. Its delicate appearance completely matched its soft ting-a-ling. I would love to bring it home. I figure that if we skipped about 2 family vacations we could afford to scoop it up. I am working on Larry and the boys on that one.
Photo by Lynn Byrne for Decor Arts Now
Some of the Bertoia sculptures are meant to celebrate movement and sound, such as this spray sculpture.
Photo by Lynn Byrne for Decor Arts Now
I also didn't know that many of Bertoia's monoprints were studies for his sculpture.   I see references to the double gong sculpture in the first print and the wire sculptures in the second.
Both photos via Lost City Arts on 1stDibs
The works by Bertoia at Lost City Arts are fantastic, but the gallery has much more.  There are works by other artists, great lighting, mid-century furniture (including works by Paul Evans and George Nakashima) and a terrific custom reproduction furniture line.
This was my favorite chandelier now at the gallery.   Jim told me that it is one of the finest pieces ever done by its creator Poul Henningsen and is called a Bombardment chandelier.
Photo from Lost City Arts on 1stDibs
I also liked this simple collection of Danish beach stones personally collected by Jim mounted for display.  Beauty can be found everywhere and these are affordable with prices ranging from $100-$450.  They would be perfect in my Montauk beach house.
Photo by Lynn Byrne for Decor Arts Now
The contemporary furniture made by Lost City Arts with a customer's own material has great lines.   It is a new source for me and I am sure I will go back to order pieces for clients (and perhaps myself!).  Here are a few photos to whet your appetite.
All photos from Lost City Arts on 1stDibs
Lost City Arts gallery is located at 18 Cooper Square in Manhattan.   If you are in the tri-state area, I encourage you to pay a visit.  Ask for Matthew.  He is likely to be there even if Jim is out of town.
You may also like: