By Lynn Byrne. Tim Burton's Alice in Wonderland opens Friday and I can't wait to see it.  I am entranced.  The shapes, the colors, who cares about the story!  I want to see the costumes, makeup and sets!
As some of these advance promotional still shots show, you can learn a lot about how colors interact by studying these photos.  I even think they suggest some great room palettes.
First, compare these shots of Johnny Depp as the Mad Hatter.  When he is placed in front of a green background, which is the color near opposite his reddish-orange hair on a color wheel–known as the complement, the colors really pop.
In the next shot, in front of a charcoal gray background, he looks much more subdued, with more coppery tones.  The gray takes  the chroma (or brightness of a hue) down a bit.  Mmm, charcoal gray and copper–could be a yummy combination in a room.
I think part of the magic of the movie will come from how the colors are constantly changing.  Here Depp is surrounded by harmonious colors, in other words, colors that are adjacent to each other on the color wheel.  Like the grayed out shot above, this photo is calmer than the first shot of Depp.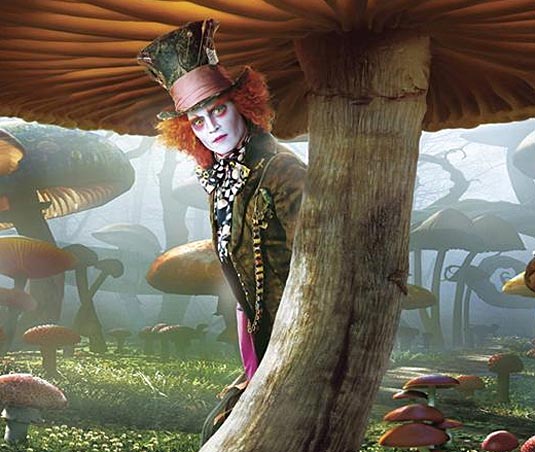 I definitely want to do a room in these lovely bluish-greenish harmonious shades.  
Here Alice is in West Elm's favorite palette for spring: gray, white and yellowish-gold (her hair).  
When Anne Hathaway makes an appearance, we get a lesson on how to do neutrals: white, brown and black. Various shades and textures, and a hint of metallic (the necklace) keep it all very interesting.
In this shot, shades of white and cream are  set off by a pop of color.
Pantone's color of the year, turquoise, is not left out.  In the first shot, the turquoise really grabs you because the orangey-red is almost opposite it on the color wheel. 
In the next picture, the turquoise is more mysterious and subtler because it is surrounded by gray and the harmonious greenish-bluish shades in the background.  Still those teeth are scary looking to me.  Denise wants to take Q, but I am worried that she will be frightened.  
Here is how Alice and Wonderland does classic black and white stripes.  
Now for pastels.  
This is going to be a fascinating movie.
All photos are linked to their sources.
You may also like: