By Lynn Byrne. I am still new to the blogosphere, so I don't always realize when one of my post ideas is a repeat of others.  I was inspired by the iconic Eileen Gray apartment shot below to do a post on zebra rugs.  (By the way, I recall reading in Domino that the zebra rug in the Gray designed apartment was used to "style" the photo.  Even the masters of design like Eileen Gray get styled!)  Photo from theboundary.co.uk.
Little did I realize at first that the zebra rug thing has been done (and done, and done).  You don't need me to find you inspiring photos of rooms using a zebra rug.  They are all over the web.  Just google "zebra rug" and have at it.
But then I got thinking.  There is so much zebra pattern out there, has that style trend gone too far?  You be the judge.  First, consider zebra wallpaper.  
Can you live in these rooms?  Let me know.  Wallpaper photos from Echo, Just Say Mo, Porter House Designs, and Shakadoo.
Then I entered the daring world of zebra bedding.  Most of what you find when you google "zebra bedding" looks like this.  Photo from Mattresszine. Clearly way too bordello for me.
But then there is the duvet and shams offered by Williams Sonoma Home (they went a little zebra crazy this past holiday season; more on their offerings below).  It is toned down quite a bit by doing the zebra pattern in beige.  It is better, but I am not in love.  What do you think?
I did kind of  like this zebra crib set done in brown and pink.  Photo from Carousel Designs. I find that a charming color combination.  I would have certainly stopped at the bedding though–no zebra wallpaper border, lampshades or rug for me.  One animal at a time thank you.  I think the room would be improved by solid brown chandelier shades, a pink shag rug and a pink lampshade on the table lamp and no border.  Much better in my opinion.
Although I am not generally the type of decorator who comes in with a sweep of her hands and proclaims that it all has to go, this young lady's room might be the exception.  I couldn't have my name on that one.  What do you think?  Photo from Princess Canopy Beds.
I also found quite a bit of zebra upholstered furniture.  Some of it is nice.  I like these chairs and ottomans as accent pieces in a room but in my view the bean bag is going too far.  Photos from CMC Design Studio, Brown Zebra, Material Girls, The Trophy Room Collection and Hot Bean Bags.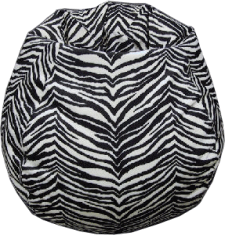 When I considered accessories, I discovered that the realm of accessories went far beyond pillows.  Of course, I found pillows, but I also found a shower curtain (ugh), a faux zebra throw, an accent cube, a photo zebra print and even a Christmas stocking.  And everything but the shower curtain was offered by Williams Sonoma Home.  As I hinted at above, they recently went a little wild over zebra (and I haven't even shown you their zebra slippers because I am limiting the post to home decor and not fashion!).  Photo of the shower curtain from Andover Direct. All other accessory photos from Williams Sonoma Home.
Do you like any of the above?  I did find a couple of pictures where I think zebra as an accent is done well.  Photos from Blossom Residential Design, Cote de Texas via Traditions Journal, Decor Pad.
After all that zebra, my favorite picture is the one below of zebra "au naturel".  Photo from Coolest-Wallpapers.com. Has this trend run its course?  Tell me what you think.  
You may also like: