Feb. 07
NOW AND THEN: Historic Hudson Valley House Olana and the Persian Look
By Lynn Byrne. Digging that "orient express" look?
You would be in good company. The whole global, ethnic far eastern thing is pretty hot right now.
At one time, Elsie de Wolfe lounged in what she called her "Turkish" corner that was embellished with oriental rugs, pillows, tassels and fringe.
Today, you don't have to rely on rugs or tile to get the look.
Venerable period wallpaper firm, Bradbury & Bradbury has just introduced its first "Persian" wallpaper room set. Perfect if you are looking for something exotic. Click here to see all of the papers.
When an entire roomset is used, the look is quite intense.
But remember, you don't have to use it all.
Get creative. I like the idea of their Persian Star paper on the ceiling of a playroom.
Where did the "Persian" look come from?
The historic Hudson Valley House, Olana is one major source. Original owner, Frederick Church (1826-1900), together with architect Calvert Vaux, claims to have invented it.
Church never visited Persia, but he was enamored by what was then called " Oriental" motifs. There is lots of glazed tile, stencilling, ogive arches and metalwork. Take a look.
Photos from Saudi Aramco World
Don't miss that suzani bedspread in the next shot. Olana was built between 1870-1891, so suzanis are not a recent discovery!
Photo from Artfixdaily
Ditto with the inlayed Moroccan style side table in the foreground of this next photo.
Photo from AtticMag.com
Photos from the Times Union
Photos from the book, Historic Houses of the Hudson Valley by Gregory Long
Olana is such a fantasy land and I didn't even touch on the gardens. Olana's architect, Vaux, designed Central Park with Frederick Law Olmstead, and the gardens and view at Olana are sublime.
While you can't duplicate Olana's settting, you can capture a bit of that dream-like far eastern exotic quality in your own home. In addition to the Bradbury & Bradbury wallpaper, here are a few more products now available.
Sophiemomo on Etsy offers pillows inspired by Olana. This one is sold but there are others like it. Note the tassels.
Waverly has a fabric called Olana. It comes in a number of colorways and is available at fabricfinder.com. Here it is in gold.
Wisteria sells a very cool Moroccan-style silver plated side table for $299.
To capture the feel of some eastern-inspired metal work, you could go with this candleholder ($249), also from Wisteria.
Then there is Wisteria's "peacock" mirror. Pricey at $2399, but a real statement piece.
Anthropologie has you covered for rugs.
And for just a touch of the Persian look, grab this vessel, also from Anthropologie, for $16.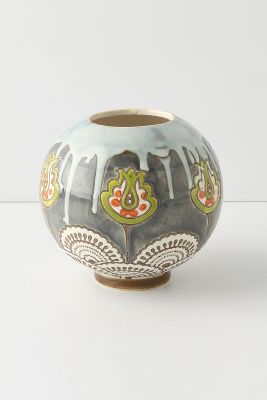 Ready to jump aboard this trend?
First image is a drawing by Church of the southwest facade of Olana from the Long book.
You may also like:
11 Responses to "NOW AND THEN: Historic Hudson Valley House Olana and the Persian Look"