Oct. 27
NOW AND THEN: Pagodas
By Lynn Byrne. Pagoda, pagoda, pagoda–that is the common theme noted by reviewers of Mary McDonald's new book, Interiors, The Allure of Style.  I bought it (no surprise there), but I haven't had time to digest it yet.
Still she does love those things.  A quick flip through the book turned up these images.  I suspect there are more. 
Of course she is not alone in her love affair.  Mariette Himes Gomez used a white one to great effect in this garden room.  Photo from her book Rooms. 
Michael Smith showed several on the cover of his first book. 
Diamond Baratta glammed up a beach house with a matching pair stuffed with coral.
Photo via Absolutely Beautiful Things
This pagoda craze is not a new thing.  Designers have been infatuated with pagodas for some time.
Tony Duquette (being Tony Duquette) supersized them in his gardens.
Photo from Rose C'est La Vie
Photo from Philip's Garden Blog
In the home of Rose Cummings (read about this legend at the Peak of Chic), she used mirrors to magnify the effect of an early Chinese Temple Pagoda.
Photo from the book, The Finest Rooms edited by Katharine Tweed
And check out this amazing Pagoda Bed said to be made for Prince Albert for use at the Royal Brighton Pavilion.  Click here to read about the Royal Brighton Pavilion.  The room is by Eleanor Brown for McMillen, Inc. This photo is also from Tweed's, The Finest Rooms. Unfortunately the book doesn't tell us how she sourced it!
Of course the motif is old as the hills.  Here is a fragment of wallpaper, c.1810-1820 where one features prominently.
Photo from Carole Thibaut-Pomerantz book, Wallpaper
And here is a tulipiere in a pagoda shape from 1695. 
Naturally, the architecture is even older.  The origins of a pagoda can be traced to the Indian stupa, 3rd century BC.  Read all about it here.
This classic pagoda is in China.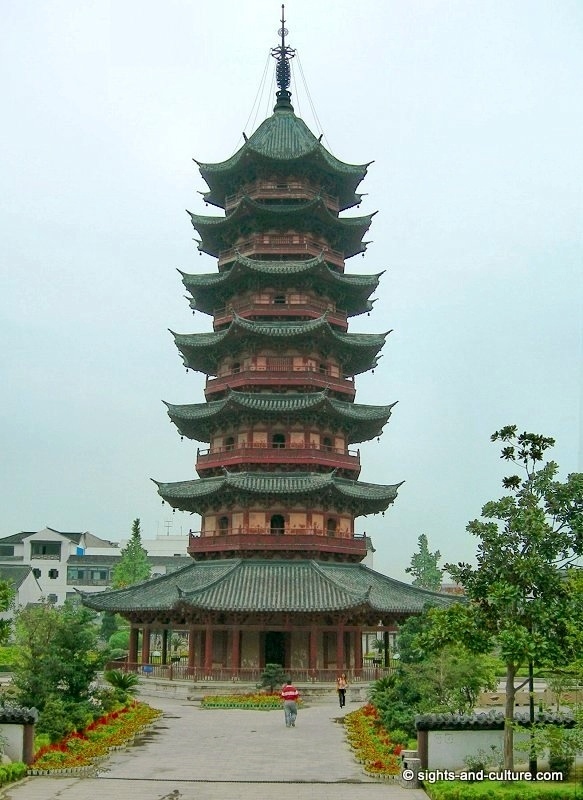 Want to get in on the pagoda style action?  In feng shui, the pagoda is said to be a source of protection and education luck (so nab one if you have a big exam coming).
Here are a couple of great products out there at reasonable prices.
You can get your own tulipieres from multiple sources on the web.  At  the Pink Trumpet they are $88.
Gumps has this lantern for $95.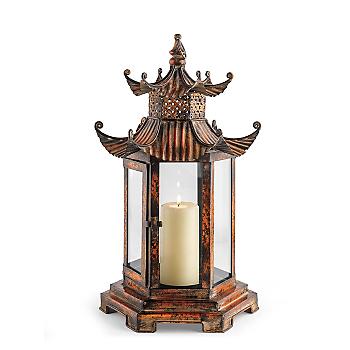 And I am digging this poster available from PopartUK for 3.99 sterling.  They ship worldwide.  
To all of you feng shui people: I am wondering…if the pagoda brings educational good luck, does it help with writer's block?  Please let me know, because then I may just scoop up that poster for my office!
First photo from the Mariette Himes Gomez book, Rooms.  Photos not identified are linked to their sources.
You may also like:
2 Responses to "NOW AND THEN: Pagodas"